Looking for a quality civil engineering company for your next project?
WElcome to NC & JC Construction Limited
NC & JC Construction Limited is a company focused on civil engineering works, aiming to be at the forefront of efficiency, reliability and innovation. Providing a quality service that meets the ever changing needs of the marketplace, which consistently out performs client and public expectations.
Our aim is to ensure all aspects of our client's needs are delivered in a timely cost effective manner; not only meeting but exceeding their requirements and expectations
We have an extensive range of project experience and deliver civil engineering contracts for commercial, industrial and private clients. With contracts ranging in value from £50k to £1.5m, the majority of the civil engineering work we undertake is within 80 miles of our Milton Keynes base and include Buckinghamshire, Northamptonshire, Bedfordshire, Hertfordshire, Oxfordshire and Warwickshire.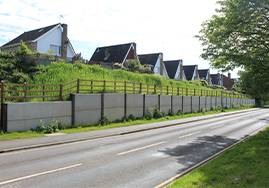 Frameworks, Term Contracts and Maintenance Services
Our services involve both planned and emergency works, and include minor civils repairs and improvements, winter maintenance, road drainage gully cleaning, road sweeping...
READ MORE
Leading the way in Civil Engineering